Artsapalooza coming to downtown Kokomo September 3-4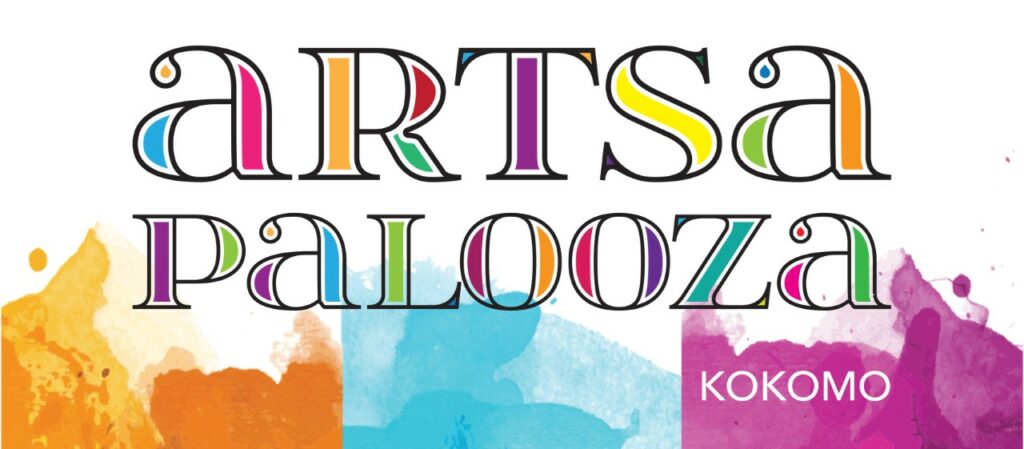 Join us in downtown Kokomo Friday, September 3 and Saturday, September 4 for the first ever Artsapalooza Arts Festival & Experience. This community event features high-quality, handmade art and fine crafts by artists and makers as well as engaging art demonstrations, music, performance art and engaging art activities with non-profit organizations.
The festival kicks off with First Friday on September 3. Check out the new art on display in Artist Alley with an opening reception and an opportunity to talk to the artists themselves. Enjoy a free concert at the Rain Garden Plaza and find activities and promotions from businesses around the downtown area. At 7 p.m., join us at Sun King Kokomo for a screening of the short films submitted for the Kokomo 48-Hour Film Contest.
On Saturday, stroll through the artist market set up on Main Street in front of the courthouse. Find a wide variety of unique art, such as handmade hats, canvas creations, wood carved pieces, jewelry and more. The artist market will be open from 10 a.m. to 7 p.m. Be sure to head from the market to the Riverwalk Concert Series starting at 6 p.m. The concert, presented by The Coterie, will feature Gingerbeard Man at the Riverwalk Amphitheater.
Also on Saturday, artists are invited to participate in a plein air paint out. Artists will paint various scenes around downtown from 10 a.m. to 4 p.m. for a chance to win a cash prize. Awards will be announced at 5 p.m. Participating artists will have the opportunity to exhibit their paintings at the IU Kokomo Downtown Gallery until the end of September as part of a show that focuses on the midwest landscape. Pre-registration is not required. Artists can sign up at the IU Kokomo Downtown Gallery between 10 and 11 a.m.
This event is made possible thanks to our generous sponsor, Financial Builders.

Hours: (Rain or Shine)
Friday, September 3rd
5:30 p.m. First Friday Artsapalooza Arts Festival & Experience opens
Hawgin' the Block BBQ Dinner Main Street
Fundraiser event benefiting Bridges Outreach
Hawg Heaven Food Truck dinners for sale
Artist Alley Opening Event
Artists host tour of exhibit
6 – 8 p.m. Rain Garden Plaza Concert Rain Garden Plaza
The Peaceful Kings
Kyle Baer
6 p.m. Artworks Gallery Permanent Collection Exhibit Artworks Gallery
Opening presentation & reception
Saturday, September 4th
10 a.m. Art Marketplace opens Main Street
6 – 10 p.m. Riverwalk Concert Riverwalk Amphitheater
Featuring Gingerbeard Man
7 p.m. Art Marketplace Closes Main Street
10 p.m. Riverwalk Concert concludes Riverwalk Amphitheate
Hotel Accommodations:
Festival Guests travelling to Kokomo from out of town are invited to receive a special rate at our Host Hotel where a block of rooms has been reserved.
Hampton Inn & Suites
2920 South Reed Rd. (SR 931)
Kokomo, IN 46902
(765) 455-2900
Group Code: Artsapalooza Arts Festival
Group standard room rate: $109 + tax
Guests will need to call the phone number listed and give code to book a room at the discounted rate.
Rooms are being held for Friday, Sept. 3 and Saturday, Sept. 4, 2021.
Artist lineup for Saturday, September 4
Flags by Zach
Marilyn's Clay Garden
Connie Ingmire
SloMo Tie Dye
Creations by Novalee
Karen Becker Art
Imagine That
Suzie Q Designs
Abigail Becraft
Wood You Imagine
Urban Plant Lady
Christopher Gibson & the Good Times Band