GREATER DOWNTOWN KOKOMO ASSOCIATION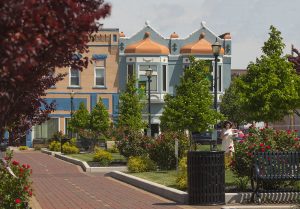 The Greater Kokomo Downtown Association is a network of individuals, volunteers, and businesses committed to preserving, promoting, and enhancing the vitality of downtown Kokomo through economic development, creative placemaking, and community engagement.
The Association's goal is to create a downtown ecosystem where businesses thrive, residents flourish, and visitors explore in a harmonious community atmosphere.
Creative placemaking is a process that engages community member, artists, arts and culture organization, community developers, and other stakeholders using arts and cultural strategies to implement changes community members want to experience. This approach aims to provide outcomes that improve vibrancy and economic conditions, and builds capacity among residents to take ownership of their communities.
It creates a unique sense of place and builds connections between people and places by encouraging collaboration and visualization. Animating public spaces is a central goal of creative placemaking.
Part of the Greater Kokomo Economic Development Alliance, the Downtown Association plays major and supporting roles in several downtown initiatives, including:
Artist Alley
Strawberry Festival
Rain Garden Plaza