The Storm Story: Inventrek Rebuilds After Tornado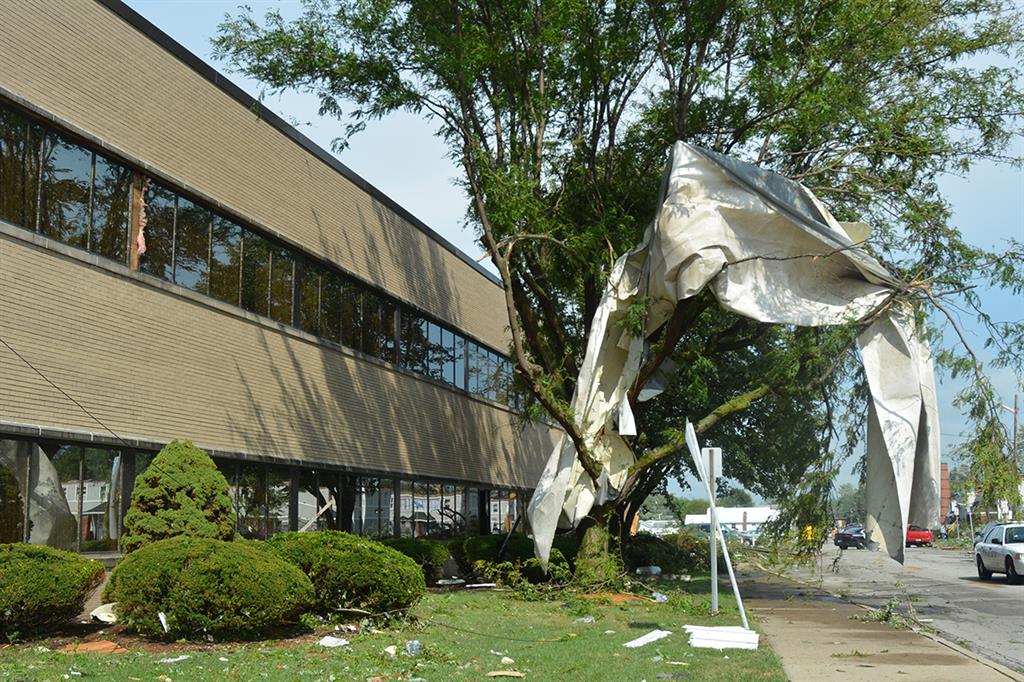 Inventrek rebuilds after August 2016 tornado
Operated by the Greater Kokomo Economic Development Alliance, Inventrek Technology Park came back from tornado damage stronger than ever.
The facility was hit hard by the Aug. 24, 2016, tornadoes that impacted Kokomo. The building was closed immediately and remained shuttered for seven months while a complete restoration was underway.
In April 2017, the first tenants returned to the facility and on May 11, it was officially reopened to the community.
When the tornado hit on Aug. 24, nearly 200 people were in the building. Fortunately, there were no injuries, but the building itself didn't fare as well.
Major damage to the roof led to significant water damage throughout the
facility. That damage caused the immediate closure of the facility. Remediation efforts that followed and resulted in a nearly bare bone facility that required a complete restoration.
What followed was a 7-month, $3.4 million renovation of the 98,000-square-foot facility.
It was a major project. The entire roof was replaced, new walls, carpeting, wall coverings, lighting, HVAC system, nearly 100 windows replaced. With such a major project in such a large facility, it resulted in some shocking numbers of materials: For example, 27,480 new ceiling tiles were installed. Contractors used 498 gallons of paint primer and 986 gallons of colored paint.
An average workweek in the building was 568 hours and from demo to completion, 26,000 work hours were accrued.
Tenants returning to the facility
The closure left the building's 27 tenants without office space.
Inventrek staff immediately began looking for temporary office space for the displaced tenants. Thanks to two local businessmen, Inventrek staff was able to help secure temporary office space for 6 business incubator tenants and the coworking space within a week of the storm.
For the other displaced tenants, the business community in Kokomo truly came together to ensure these startup and growing businesses were able to survive the interim while the Inventrek building was renovated.
Property owners around the community allowed Inventrek tenants to operate under temporary or shorter term leases, so that they could easily return to Inventrek when the time came. And in many cases, property owners offered discount rent rates to make the start-up businesses' operating costs more comparable to the incubator program rates here at Inventrek.
All of these efforts allowed all but one business in the Inventrek incubator program to continue despite being without office space so early in their existence.
When it reopened in May 2017, 16 of the 27 tenants had returned to again operate as part of the incubator program. For others, they are now operating their business in permanent office space outside the incubator program.