Need information about Kokomo and Howard County?
In-depth information about the Howard County community, including population, educational attainment, labor force, businesses and jobs, income and spending, housing and transportation.
An exhaustive report on consumer spending broken into 15 categories, including apparel, entertainment, education, food, gifts, household furnishings, shelter, tobacco and more. Reports includes 2020 data and 2025 predictions.
Population statistics broken down by sex, race and ethnicity, labor force status, education attainment and size of household.
Data recorded by both establishment and employees within establishment types.
A wage report on nearly 200 occupations, including median hourly, mean hourly, median annual and mean annual.
Need even more? Fill out the contact us box below.
Great skills. Great productivity. Greater Kokomo.
Industry Week magazine ranked the Kokomo metropolitan statistical area as first in the nation for manufacturing presence, productivity, and strength.
Our highly trained workforce is drawn from a balanced mix of job experiences.
Kokomo/Howard County workers are known for having that "strong Midwestern work ethic."

Howard County Demographics
'Meet' the people who make Greater Kokomo a great place to live.
POPULATION
The total population of Howard County is 82,351 and includes the communities of Kokomo (57,836), Greentown (2,375), and Russiaville (1,097). Currently, Howard County is the 18th largest county in Indiana.
The median age of Howard County's population is 40, with the largest segment of residents falling into the 65+ category. Recent initiatives from the Alliance and local government aim to attract young professionals, which has led to it becoming the fastest-growing segment of Howard County's population.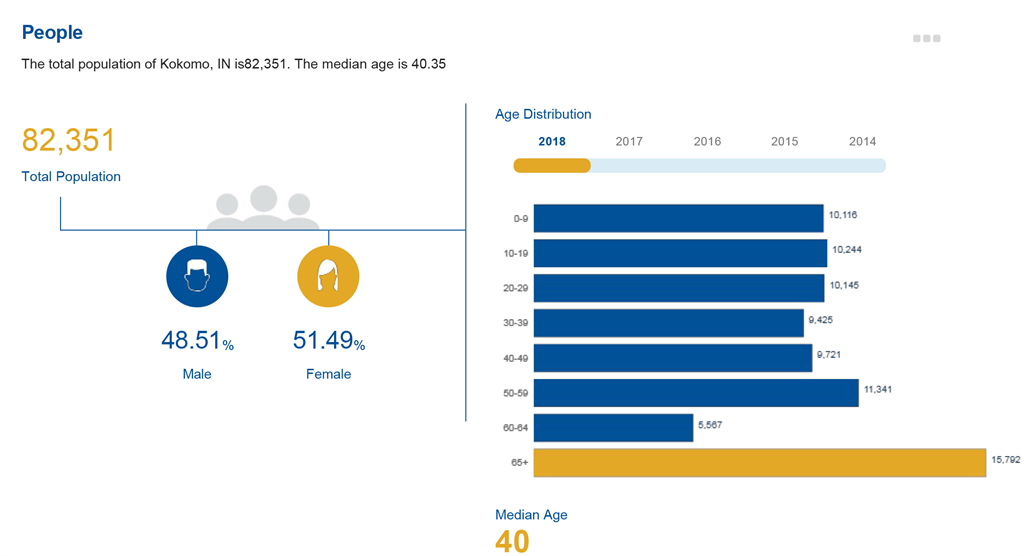 Our residents are among the highest income levels statewide.
Quick Facts For Kokomo MSA
Per Capita Personal Income: $37,356
Total Personal Income: $3,084,000,000
Estimated Median Household Income: $48,283

The median family income in 2015 was $59,111, while the median household income in 2015 was $44,226. The average wage per job in 2016 was $46,217, which was a 14 percent increase since 2000. (Stats from U.S. Census Bureau, ACS 5-year estimates and Bureau of Labor Statistics)
And be sure to 
contact the Alliance 
 for further insight into employment and earnings in our community.
This is the right place, tax-wise, for investing and growing.
At a time when other states are raising taxes to keep up with mounting state debt, Indiana's long history of smart fiscal choices, balanced state budgets and cash reserves in a rainy day fund puts the Hoosier State in a position to actually lower taxes. Indiana's corporate income tax rate is steadily decreasing each year, from the current 5.75% to 4.9% by 2021.
Corporate tax cuts – 6% (4.9% by 2021)
Individual tax cuts – 3.23% (down from 3.4% in 2014)
No inventory or inheritance tax
And if you need additional data contact The Alliance. We've got ready access to all the facts and figures you could want to help you make sound business decisions.
A great community starts with great education.
We believe that a solid educational foundation sets the stage for future success – both for individuals and our community as a whole. We're proud to have excellent educational opportunities available in our community, starting with K-12 school systems all the way to graduate-level programs.
PUBLIC SCHOOL SYSTEMS 
Howard County has 5 public school systems in our community, each offering a unique approach to educating our youngest citizens. Four of the 5 public school systems in Howard County posted graduation rates above the state average of 89.8% for the 2013-2014 school year. Click the school name below top visit them for more information.
Source: Indiana Department of Education, December 2015
COLLEGE EDUCATION IN KOKOMO
Founded in 1945, 
Indiana University Kokomo
 is a regional campus of the Indiana University system that offers a variety of degree concentrations, including business, allied health sciences, hospitality and tourism, nursing, humanities, and more. Indiana University Kokomo offers 38 undergraduate degrees (associate and bachelor), 6 graduate programs, and 12 certificate programs. Over 440 students graduate from IU Kokomo each year.
---
 A regional campus of Indiana's largest public university, 
Ivy Tech Community College Kokomo Region
 offers a variety of hands-on degree-earning programs, including advanced manufacturing, automotive technology, nursing, computer science, and industrial technology. Each year, over 700 graduates earn an associate degree from Ivy Tech's Kokomo campus from one of its 49 undergraduate programs. A recent partnership between Ivy Tech and Indiana University, the 
ABC Program
, allows full-time Ivy Tech students to transfer to IU Kokomo to earn a bachelor's degree more quickly and easily.
---
Purdue  Polytechnic Institute Kokomo
 provides several technology-focused courses of study that are relevant to Kokomo's advanced manufacturing focus, including  supply chain management technology and engineering technology. The campus offers 7 bachelor's degrees and 1 associate degree locally as well 1 certificate program. The school graduates about 35 students each year.
---
Indiana Wesleyan University 
in Kokomo offers concentrations in business, management, healthcare, education, and more with a Christian foundation. The campus offers 15 undergraduate degrees, 5 masters programs, and 10 certificate programs. The Kokomo Education and Conference Center also serves as a frequent destination for corporate training events, professional development meetings, and Chamber strategic discussion groups.
Historical inventions drive today's innovations in Greater Kokomo.
As the birthplace of one of America's first gasoline combustion-engine cars, stainless steel, signal seeking radios, satellite, and more, Kokomo's history of innovation and ingenuity spans over 150 years. For this  reason, our community has a strong employer presence in the automotive, manufacturing, and technology industries.
Where does our workforce of over 35,000 go every day? Take a look below at a few of our primary employers in Howard County.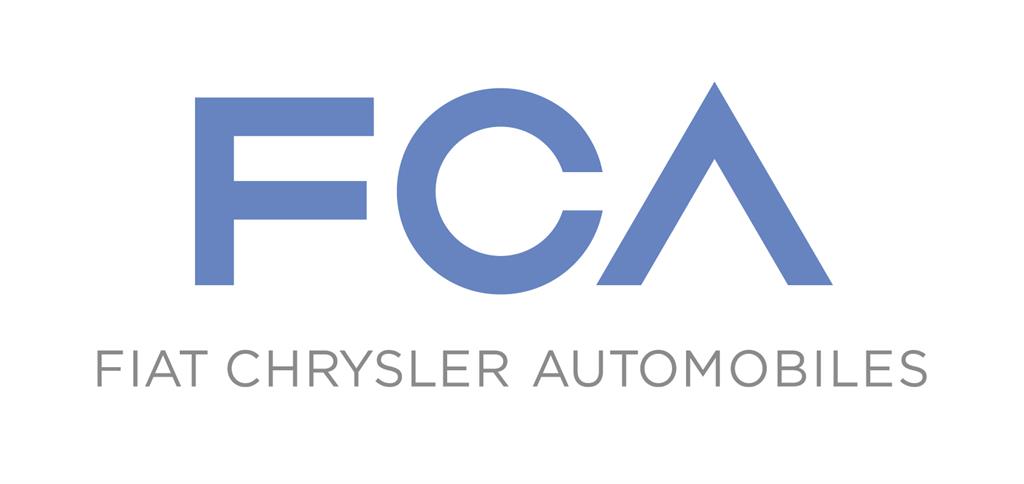 Automobile manufacturer FCA US LLC employs over 8,000 people and operates 3 transmission plants and 1 casting plant facility in Howard County. (Another FCA transmission plant is located just south of Kokomo in Tipton County) . In fact, recent investment from FCA has now made Kokomo the largest automotive transmission-producing community in the world!
At the Kokomo Technology Center, Delphi technologists are reimagining the fuel delivery, power management and vehicle service needs with a focus on advancing propulsion and aftermarket solutions that will lead to cleaner, longer-lasting vehicles. Employs more than 600 people.

Aptiv is a global technology company that develops safer, greener and more connected solutions enabling the future of mobility. Aptiv has 600+ employees.

Automotive manufacturer General Motors employs around 600 at its facilities in Howard County. Its Kokomo Operations provide manufacturing capabilities to GM and Delphi, as well as other companies outside of the automotive industry.

Haynes International, a leading developer, manufacturer, and marketer of high-performance nickel- and cobalt-based alloys used in corrosion and high-temperature applications, employs over 850 people at its corporate headquarters. The company has called Kokomo home since its founding in 1912 by famed inventor Elwood Haynes.
Other key employers in Kokomo and Howard County include:
 Employer                                                  
 Industry                     

 

 Employees 

 Kokomo School Corporation
K-12 Education
 1497
 Community Howard Regional Health
Healthcare
 1058
 St. Vincent Kokomo
Healthcare
 850
 Bona Vista Programs, Inc.
Human Services
 523
 Syndicate Sales, Inc.
Plastics Manufacturing
 276
 Indiana University Kokomo
Higher Education
 266
Please note: this is not an exhaustive list of employers in Kokomo and Howard County. For a list of other employers and organizations, check out the Chamber business directory.
WATER SERVICE
Indiana American Water 
800.492.8373
---
Wastewater Treatment Plant (City of Kokomo)
100 S. Union Street, 1st floor, Kokomo, IN 46901
765.456.7360
---
Greentown Utility Office (Greentown Water & Sewage Service)
112 Meridian Street, Greentown, IN 46936
765.628.3263
---
Russiaville Utilities (Water & Sewage Services)
250 N. Union Street, Russiavile, IN 46979
765.883.5739
ELECTRICITY
Duke Energy
800.521.2232
NATURAL GAS SERVICE
NIPSCO 
800.4NIPSCO
PUBLIC MAINTENANCE & REFUSE
City of Kokomo Public Maintenance & Refuse
765.453.4030
---
Howard County Recycling District  
4102 Cartwright Drive, Kokomo, IN 46902
765.456.2274