Together, We Make A Better Place To Call Home!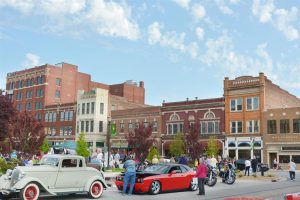 Kokomo and Howard County have been called a lot of things: a 'top city for Indiana families', a 'best city for U.S. job seekers', a nationally-ranked community for advanced manufacturing, exports, and affordability, and even an 'Indiana community of the year'. However, we're proud to call it something even better: home.
As the primary economic development organization for Kokomo and Howard County, the Greater Kokomo Economic Development Alliance strives to create a thriving economic climate for our community's citizens and businesses. We accomplish this, in collaboration with city and county government, through our operating divisions: the Greater Kokomo Chamber of Commerce, Greater Kokomo Visitors Bureau, Greater Kokomo Downtown Association, and Inventrek Technology Park.
Whether you're an employer looking to start or expand a business, a resident who wants to get more involved in the community, or a relocating family hoping to find a forever home, rest assured that you'll find the resources and tools you need here to choose Kokomo and Howard County.
Alliance offices are located in Inventrek Technology Park, 700 E. Firmin St., Kokomo.
"Kokomo is the type of place where you'll know your neighbors, be able to join an innovative workforce that tackles unique challenges, and a place to unwind with an abundance of recreational activities.  Simply put…it's a place we love to call home!"
Special Thanks To Our Flagship Partners
Kokomo is part of the Indiana Main Street network as a Nationally Accredited Main Street.
Main Street America has been helping revitalize older and historic commercial districts for more than 35 years. Today it is a network of more than 1,600 neighborhoods and communities, rural and urban, who share both a commitment to place and to building stronger communities through preservation-based economic development. Main Street America is a program of the nonprofit National Main Street Center, a subsidiary of the National Trust for Historic Preservation.