Inventrek welcomes Hydration Station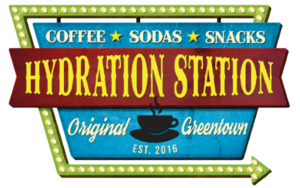 Hydration Station owners Rodney and Amy Ellis have partnered with the Greater Kokomo Economic Development Alliance to open a second location of their popular Greentown eatery inside Inventrek Technology Park at 700 E. Firmin St., Kokomo.
Nearly everything will be the same as its Greentown operation, including most of its large menu of coffees, teas, flavored sodas, smoothies, chocolate and vanilla soft-serve ice cream, and snacks that customers love. 
And while there won't be a drive-thru available at Inventrek, curbside service and outdoor seating areas will be available. Unlike its Greentown eatery, however, the Inventrek location will have an indoor lobby.
For Lori Dukes, manager of economic development for Alliance, that was a vital component of this project. 
A PLACE TO GATHER
Dukes said the Inventrek team set out to create a space that welcomes tenants, students, and the general public. 
"I want to create an environment that our tenants and customers want to 'hang out' in and enjoy repeatedly," she said.
To that end, the space features a variety of seating styles so that customers may choose the most suitable to their needs. 
The design goal was to create an atmosphere that kept in mind the intended use for the tenants as well as to acknowledge that Inventrek, which houses Purdue Polytechnic Kokomo, is also a college environment. 
"It is our hope that Inventrek becomes a place for interaction between students and tenants and a place for studying and recharging."